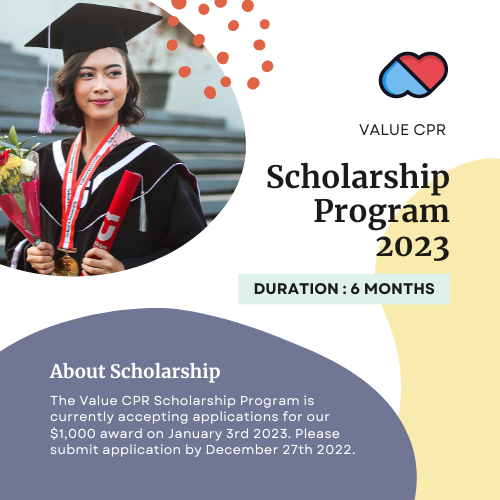 ValueCPR is proud to present the Value CPR Foundation Scholarship Program for students aspiring to study or currently studying healthcare or education.
Every 6 months we award a $1,000 scholarship to students pursuing careers in healthcare or education. We are thrilled to support passionate individuals who make a difference not just in the classroom, but through all aspects of their lives.
These vital fields are experiencing global exponential growth and are essential to the success of the Value CPR Foundation's mission, which offers online cardiopulmonary resuscitation (CPR) courses to individuals and groups around the world interested in learning life-saving techniques for a variety of settings.
Each 6 month's, a scholarship will be awarded to a student demonstrating why they are driven to attain a degree in the education or healthcare fields through a written essay. The scholarship may be used for education expenses at the school the winner is currently attending or is enrolled in for future attendance.
Qualifications to Apply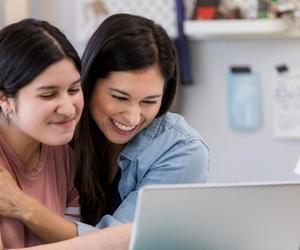 To qualify for the Value CPR Foundation Scholarship Program, you must:
Be at least 18 years of age and studying in the United States
Have a minimum GPA of 2.8
Be currently enrolled in school majoring in a healthcare- or education-related field
If not currently enrolled, you must be applying to a college or university with plans to major in a healthcare- or education-related field for enrollment the following academic year.
Unsuccessful applicants may re-apply in subsequent months. Scholarships will only be awarded one time to each winner. Past winners are not eligible to apply again.
How to Apply
To apply, qualifying students must submit a 500- to 750-word essay describing what motivates them in their career aspirations, and why they want to pursue or are currently studying for a healthcare- or education-related degree. Each application will be judged against other applications received in that 6 month period.
A selection of finalists among the essays will be chosen by the Value CPR Foundation, which will share finalist essays on our website. While the social popularity and online response of the essays may have some influence on winning essays, it is not the sole basis of our final decision.
To apply, email submissions@valuecpr.com with the following information:
Name, email address, and phone number
A Microsoft Word document containing the 500- to 750-word essay, with name, email address, and phone number at the top of each page
Proof of school enrollment or future enrolment such as school transcript, student ID, or university email address.
Deadline: Submission is due December 27th, 2022. With the winner announcement on Jan 3rd 2023.
We are interested in learning more about what made you interested in pursuing a career in healthcare or education, what your goals are with your studies, what type of career you envision upon graduating, and how you hope to positively impact the lives of those you work with.
The National CPR Foundation relies on talented individuals to spread the life-saving message of the importance of CPR certification to protect lives around the world. Our goal with this scholarship program is to inspire the next generation of educators and healthcare providers to share their knowledge and passion for helping others with those they interact with.
We are proud to support today's students and tomorrow's leaders.
Spread the Word About the Value CPR Foundation Scholarship Program
Whether you're a student, a parent, an educator, or a concerned citizen, we hope you'll join us in sharing information about the Value CPR Foundation Scholarship Program with any student who is studying for or planning on studying education and healthcare.
Especially for schools that are offering healthcare or education degree programs, we hope you will tell your students about the $1,000 scholarship opportunity to assist in their education.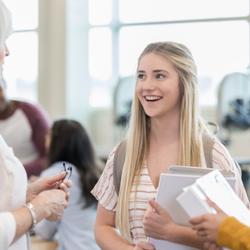 The Value CPR Foundation aims to provide the best life-skill techniques curriculum certification experience available, and we believe by offering this scholarship to talented students around the country, we will help to foster innovation and the spreading of valuable techniques that can improve communities and protect individuals.
We offer online education in CPR courses that are tailored for individuals and groups in unique settings such as healthcare, corporations, children's camps, and more. Our accredited courses make it easy to learn CPR on a flexible schedule, in a location that is convenient to the learner.
By supporting students studying education and healthcare, we are ensuring CPR training can continue successfully for millions of people around the globe for many generations to come.
Contact Information
Email: submissions@valuecpr.com for questions regarding the Value CPR Foundation Scholarship Program.
Phone: ‪(214) 267-8753 . If we do not answer please leave a short voicemail and we will call you back.